Fishing in the Bahamas
The waters off Long Island have some of the Bahamas' finest saltwater fishing. A variety of sport fish are caught year round. Whether you wade out to the shallow tidal flats or take a deep sea expedition, the fishing at Cape Santa Maria Beach Resort will make you feel alive!

Hovering over crystal clear water eight to twenty-four inches deep, you can spend hours casting into schools of Bonefish visible below. You'll be amazed by the scrappy Bonefish — pound for pound the strongest fighting fish in the world!
Deep Sea Fishing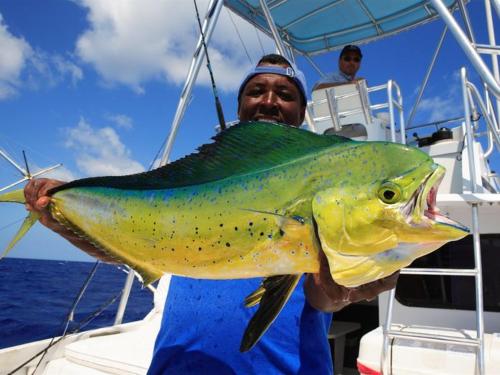 For a deep sea adventure, fishing excursions are available with experienced, professional guides.

Using ballyhoo, small baitfish and feather hoochies, you'll fish for trophy-sized beauties like White and Blue Marlin, Wahoo, Kingfish, Tuna, Shark, Dorado and Sailfish. Truly an unbelievable fishing experience.

A reef fishing excursion puts you where the sport bottom fish are. From a comfortable cruiser, you'll admire vast coral and rock reefs as your bait attracts Grouper, Yellowtail Snapper, Horseye Jacks, Amberjacks, King Mackerel, Tuna and Barracuda.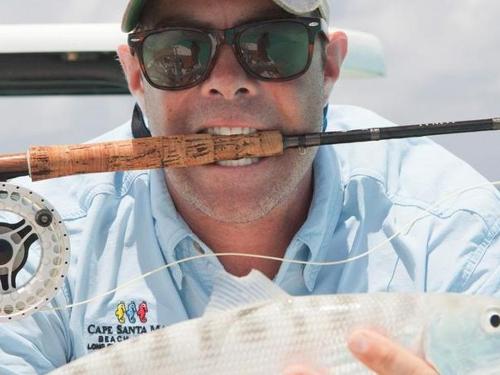 Deep Sea Fishing also includes the excitement of Deep Drop Fishing in 800 - 1500 feet of water. Catch a variety of deep sea fish such as Red Snappers, Groupers, and other predators that roam the deep!

Whether it's your first time fishing, or you're looking for that perfect trophy catch, our experienced guides will show you the best of Bahamas fishing. All of our trips include your bait, tackle, and gear — all you need to do is fish!

Guests can enjoy eating their catch (except bonefish as they are catch and release). Guests can cook their catch in their villa, or for a fee, the resort chefs can prepare your fish for lunch or dinner.
As close to perfect as we every found – or imagined!
— Abbotsford, Canada