Resort Activities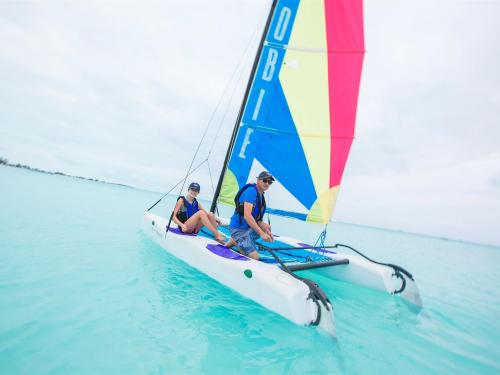 Become intimate with the slender island and its surroundings. Embark on a scuba or snorkeling tour and discover what treasures await beneath the surface. Something magical may happen at any moment – you could come upon a group of dolphins or a pristine reef.

Keep your curiosity turned on, remain in the present. Spend your morning bone fishing on the shallow tidal flats or go further out into the deep sea where the big ones are, and our chefs will prepare your catch for dinner. Sail towards the horizon in a smooth-moving catamaran-style Hobie Cat.
Borrow an ocean kayak to explore the curious limestone caves in a smaller vessel. Drive around the island and uncover a secret beach or visit a local village. You'll be surprised at how welcoming and friendly island people are – a honk is a hello, a wave is obligatory, no one is a stranger.

There's a lot to do, but there's also no pressure to do anything. Unearth the unique beat of your internal clock as your concept of time fades. You are only aware of the here and now.
Want to learn how to get here?